Mr. Stuart Andrew Edwards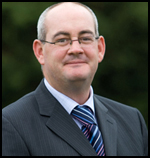 Stuart Edwards is a Consultant Orthopaedic Surgeon based in Kilkenny at the Aut Even Hospital. His specialist area of interest is surgery of the hip and knee, including primary and revision joint replacement. Stuart Edwards' goal is the delivery of modern Surgery, Personally Delivered and his drive is the provision of Clinical Excellence.
After graduating from the University of London in 1993 with the Buxton prize for Orthopaedics, Stuart Edwards spent eighteen months at King's College Hospital, London and six months Mayday University Hospital. The next year was spent at The Horder Centre for arthritis, a joint replacement centre, where Stuart obtained his primary FRCS at the first diet. His basic surgical training commenced at Queen Alexandra Hospital, Portsmouth in 1996. In 1998 he became a Fellow of The Royal College of Surgeons of England.
For eighteen months he was a research fellow at Queen Alexandra Hospital, Portsmouth. He published ten peer reviewed orthopaedic articles, sixteen abstract articles, over twenty presentations at local, national and international levels and was awarded two prizes. He was also involved with numerous repatriations of sick or injured patients from abroad.
In 2000 Stuart Edwards commenced his specialist orthopaedic training on the Wessex programme. During this time he worked in recognised centres of excellence such as Southampton University Hospital. He passed the Intercollegiate Specialty Exam in Trauma and Orthopaedics in 2005 and obtained specialist accreditation on the GMC register in 2007.
Having worked with several world-renowned surgeons in the field of adult hip and knee replacement, Stuart Edwards was appointed in 2005 as a Fellow in Lower Limb Arthroplasty and Reconstruction at The Royal Bournemouth Hospital, U.K. an Internationally renowned fellowship programme. During this year he gained significant exposure to modern techniques in hip and knee replacement such as minimal access and computer assisted surgery, plus major experience in the use of modern implants with improved longevity.
After fifteen months working as a Locum Consultant at The North Hampshire and Basingstoke NHS Foundation Trust, Stuart Edwards has been appointed as a Consultant Orthopaedic Surgeon at Aut Even Hospital, Kilkenny, commencing in November 2008. His current practice covers primary and revision hip and knee surgery, both cemented and uncemented, minimal access surgery and resurfacing procedures.
Stuart Edwards has a strong commitment to medical education and has examined at an undergraduate and Post-graduate level in the UK.
Recent developments in implants and surgical techniques mean there is now a wide range of treatment options for knee and hip pathologies. It is vital that patients are given impartial advice and able to make informed choices when considering surgery.
Stuart Edwards and his team are firmly committed to delivering the highest quality of care at all stages of investigation and treatment. We pride ourselves on being able to offer:
Choice
Evidence based treatment
Modern surgical techniques and implants
Expert clinical care
Safety
Post-operative rehabilitation/ Rapid recovery programme
Patient education
Stuart Edwards performs approximately 500 operations each year. Those most commonly undertaken are:
Hip Replacement
Primary and revision hip replacement
Big Ball Hip Replacement (dislocation very low)
Hip replacement with hard bearings (Ceramic and resurfacing for younger patients)
Complex primary arthroplasty
Minimal incision hip replacement
Fast-track hip replacement
Hip Resurfacing
Knee Arthroscopy

- Meniscectomy, lateral release
Knee Replacement
Primary and revision knee replacement
Unicompartmental knee replacement
Patello-femoral resurfacing
Other procedures include:

Hand surgery - Carpal tunnel decompression. Trapeziectomy, Trigger finger release, excision of ganglia. Elbow = tennis elbow release, golfers elbow release. Shoulder - Assessment - injections. Knee - patella realignment, Quadriceps repair


Foot - Hallux valgus correction, Hammer toe correction, Hallux rigidus-fusion
To know more about Mr. Stuart Andrew Edwards please click below links.